A Scalable and Localised Model of Micro and Small Business Support for Women Entrepreneurs in PNG
In the aftermath of the pandemic our team of six coaches provided over 900 hours of coaching to 116 women business owners in PNG. Our method involved an innovative, whole-of-person approach focussing on inner and enterprise development, with profound and far-reaching results.
What was the Opportunity?
Over the last five years working in PNG we have seen that PNG women are incredibly entrepreneurial and hungry for support. However, as Eli Webb from PNG Women's Business Resource Centre (WBRC) often shares, demand for business support far outstrips supply and the most common support is short-term technical training, such as basic financial literacy training.
While useful, short-term technical training workshops do not equip women micro and small business owners to overcome the multiple, complex challenges* of building and running a business, especially in an increasingly uncertain environment. Nor do they address some of the underlying issues faced by women entrepreneurs.
To date, our work in PNG and across the Pacific has typically focused on in-depth work with cohorts of 10-12 entrepreneurs. When COVID hit and demand for support increased, we quickly realised that this model of in-depth support wasn't going to cut it in the changed environment. 
We knew we needed a more innovative, more scalable, low-cost model to reach more women entrepreneurs, but we didn't want to lose the power of our method.
We also realised that it was time to finally act on our long-held desire to build the capacity of local talent to offer high quality business support locally (see our Local Business Coach program, and download our in-depth project report at the bottom of this page).
Our Approach
We partnered with the PNG Women's Business Resource Centre, CIPE, Resources Reimagined and the Australian Government (through the Australia-PNG Partnership) to design and deliver a scalable, cost-effective model of coaching, that blends both mindset and business coaching.
PNG WBRC identified the eligible businesses through their networks. Participating businesses came from 33 industries, had a median monthly revenue of PGK 1000, and 50% were from provinces outside Port Moresby.
Our team of six coaches provided a total of 902 hours of coaching to 116 women business owners.
Our coaching model, developed in partnership with Resources Reimagined, focuses on both 'inner development' and technical enterprise development challenges. This blended approach was designed to better respond to the multiple complex needs faced by female micro and small business owners in PNG.
We know that women all over the world have the commitment to create and run their businesses, yet they have often been taught not to trust their own judgement. Toxic patriarchy and colonialism have influenced women to stay small, to charge less, to not ask for help, to be overly critical, and to feel shame more often than their male peers.
Then there are the structural barriers that reinforce these ideas. This creates indecision, anxiety, procrastination and generally 'staying small and staying safe'. On top of this, women in PNG are often navigating complex webs of family and cultural relationships and obligations which put additional pressure on their business and home life. 
In business, these limiting mindsets affect every-day decision making. For example, the struggle to set fair prices is not the result of a lack of skill or discernment of competitors, it is usually because they don't trust their own value, they fear upsetting others, or they fear losing money.
These thoughts create strong emotions that if not addressed, put a limit on individuals' potential.
When combined with practical, demystified business tools, principles and stories, this coaching becomes a powerful vehicle for achieving women's economic empowerment.
At the beginning of the coaching program:
The majority of participating business owners reported having experienced a 50% or higher income loss due to economic downturn and COVID-19, and were experiencing reasonable levels of stress.
Most of the business owners wanted help to pivot their business model (27%), make tough decisions (21%) and analyse their financials (26%).
At the end of the coaching program:
Enterprise development
100% of surveyed business owners said the coaching helped their chance of business survival
98% business owners said the coaching helped them build new business skills
91% gained clarity on their goals and priorities
64% have identified new revenue streams
64% have already won new customers
Inner development
95% said they now believe in themselves and their business as a result of the coaching support
92% said they feel less stressed
92% say they improved focus and/or motivation
91% feel more confident
91% understood what was really holding them back
Participating business owners shared that the most helpful components of the coaching were:
The tools and business practices shared
Skills and mindset coaching to help manage business challenges and shift their beliefs
Prioritising business activities
Empathy of coaches – having someone to listen and really understand their challenges, and
Meeting the SMEs where they were at, and providing tailored support suited to them.
"Before the coaching I felt passive. My business was dwindling – very tough, no jobs coming in, and I wasn't keen on doing anything about it.
Now I feel excited and challenged. I'm not afraid to get out there and secure new opportunities."
"Before the coaching, I had a low self-esteem about my business.
Now, I have the confidence to go ahead and work to make my business move by investing and taking the risk of spending some money to make money."
"Before the coaching, I was very discouraged and exhausted.
Now I feel like a whole new world has opened up for me. I am bubbling with excitement at the possibilities that lie ahead."
"Thank you so much for your time and commitment towards women in SMEs, the amount of knowledge TDi has imparted is of life changing value."
– Feedback from program participants
The survival and growth of these businesses is benefiting 27,155 people across PNG. and has helped to realise up to PGK 2.78m additional revenue, within 6 months of the program ending.
This is based on survey results from businesses who graduated from the coaching program. To date we have surveyed 29 of the 88 businesses who graduated from the coaching program:
58% of those surveyed have grown their annual revenue by PGK 1.2m from PGK 1.55m to PGK 2.76m and they attribute 76% of this revenue growth (PGK 0.92m) directly to the program i.e. they would not have achieved it without the coaching
The other 40% of businesses surveyed have not yet grown their revenue, but expect to in the next 6 months
35% of the total revenue growth was generated by one business, who grew from 15,000 to 50,000 per month. They attributed 100% of this growth to the program.
If we extrapolate these survey results to total participating businesses (88) the program could have helped to realise PGK 2.78m additional revenue, within 6 months of the program ending.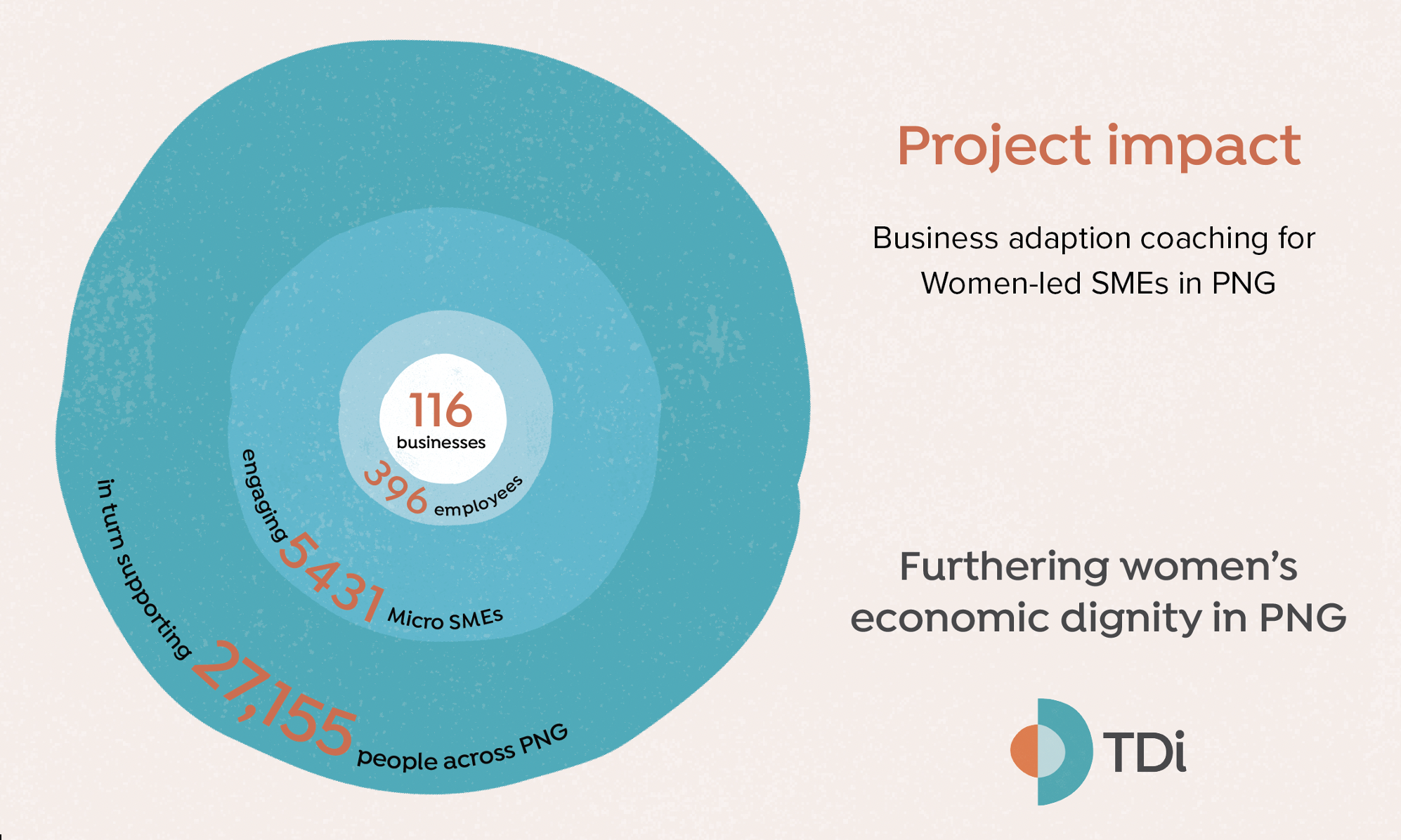 Future
The opportunity to refine and scale this model across the Indo-Pacific region is significant. 
The program uses a unique coaching model that blends both mindset and business coaching into one modality.
Because of this, the change is deeper and more enduring: women business owners gain access to practical business support as well as a safe space to heal and detach from internalised, limiting views which distort and suffocate their business decisions, creativity and energy. It also supports them to find greater freedom and empowerment in their day-to-day life and relationships.  100% of participating businesses strongly agreed that the program should continue, and 100% of participating businesses said they would highly recommend the program to family and friends. 
PNG WBRC is calling for a four-year program to ensure that this high-quality support to women-led MSMEs is available, and nation-wide, particularly for those in regional areas; but there are also further opportunities across the Pacific and South East Asia.
The opportunity exists to train more local women entrepreneurs in this coaching model, and establish a truly localised, high-quality network of coaches across the region.
There is also an opportunity to prototype an adapted coaching model for groups with different needs, such as women entrepreneurs with a disability.
If you are looking for a capability partner in the Pacific region, please get in touch to explore the possibilities.
The opportunity exists to train more local women entrepreneurs in this coaching model, and establish a truly localised, high-quality network of coaches across the region. For more on this, you can read about our Local Capability Building by downloading the full project presentation below.
*For women entrepreneurs in PNG, their businesses provide purpose, pride, and resources that support their families and communities. But women entrepreneurs in particular face complex challenges: From gender inequality, to lack of access to finance, to societal challenges such as poverty and illiteracy.[1]
PNG ranks 161 out of 162 countries in the Gender Inequality Index and 155 out of 189 countries and territories in the 2019 Human Development Index. Finding ways to address gender equality and economic growth are paramount to a better future for PNG.